Are you looking for a unique way to help your students raise their awareness about sexual abuse and body safety?
---
Is your school looking for curriculum to fulfill the Erin's Law mandate? FREE test drive of Victor Pacini's sexual abuse awareness and prevention online program – Be Seen and Heard©.
VICTOR'S VIDEO SESSIONS WILL NOT ONLY FULFILL THIS MANDATE,  BUT WILL HELP RELIEVE YOU OF DELIVERING THIS DIFFICULT TOPIC ON YOUR OWN!
---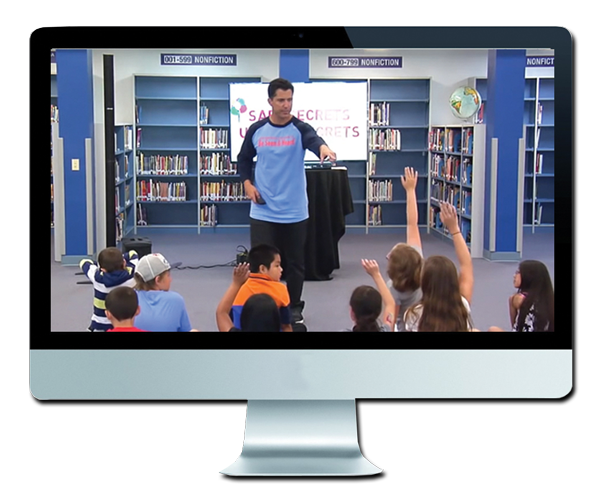 Fill out the form to receive a free test of Victor's sexual abuse awareness and prevention program. We will contact you to set up your login information.
---
If you are looking for an effective, easy to use curriculum that not only fulfills the Erin's Law Mandate, but delivers a difficult topic in an educational, engaging, and enjoyable way, then look no further. This is the Be Seen and Heard© online experience.
Many disclosures, including five in one single day, have surfaced because of this unique program.
It gives a voice to the voiceless, raises body safety awareness, empowers children, and gives parents peace of mind.

---
Testimonials
The online format was great.  The kids interacted with it.  When we did refreshers with the students on a few key points we noticed that the information is sticking with them.  It is great to have the online resources available when we are ready to talk about it with each grade level."
Social Worker – Rosemont, IL
"Victor – You were so Awesome!!! I was incredibly impressed with how you tailored the content to the various grade levels. And even though the subject matter was so serious, you made it fun for the kids while getting them to really think!"
Teacher – Northbrook, IL
"It was age appropriate for 5 and 6 year olds. They were engaged and understood the messages."
Social Worker – River Forest, IL
"Amazing! So fortunate to have you come speak to the scholars."
Teacher – Glenview, IL
"I thought the presentation was so well done. Given how sensitive the topic, Victor addressed things directly while still keeping the kids comfortable and receptive. The book will hopefully help guide some quality discussions at home."
Social Worker – Deerfield, IL
"The presenter, Victor Pacini, adapted his presentation to a wide range of age groups. Based on the responses/feedback from a group of 4th grade students, he adjusted his presentation to include more information in the middle of the session very skillfully."
Teacher – Lake Forest, IL
"It was an EXCELLENT program! Victor was energetic, humorous (when needed), and very passionate about the material. I believe that the students definitely got quite a bit out of the material that was covered in the presentation. Thank you!"
Teacher – Deerfield, IL
"I felt Victor did a very good job of entertaining the students, getting their attention, and making a topic well understood without making it feel scary. The K students had fun and also got the message!"
Psychologist – Northbrook, IL